Below you will find Photos and descriptions of our weekly Large and Small** Veggie shares and Fruit shares. Re: 2016 Fruit: Our farmers, like most in the tristate area, lost most of their the pitted fruits - Peaches, Nectarines, Plums, Cherries and Apricots - because of a late 2016 spring frost. That is the reason why you won't see any in the 2016 season pictures below. This year, we expect to see our bountiful fruit shares with the variety like we have in prior seasons.
**For POTENTIAL MEMBERS: Please know that the Small Shares pictured are only a representation of what you could receive as these shares are sometimes given a choice between 2 items. As much as possible, Small Shares are are allotted approximately 1/2 of what the Large Shares receive. However, often we offer Small Shares the option of choosing between 2 different items instead of giving a smaller amount of both. Say for example, we are given both Kale and Spinach. The Small Shares would choose either a bunch of Kale or Spinach while the Large Shareholders would get a bunch of each.
Remember, regardless of the Share size you choose, we always have an Exchange Bin situated at the end of collection for all members to further customize their shares!
Large Shares
1 bunch Green Kale
1 head Broccoli or bunch of Rainbow carrots
8 oz Jerusalem Artichokes
1 head/stalk Fennel
1 Acorn Squash
1 Spaghetti Squash
1 bunch Spinach
1 lb. Kohlrabi
1 lb. Tomatoes
1 lb. Red Onions
2 lb. Red Potatoes
2 lb. Zucchini
4 heads Mini Boston Lettuce
4 heads Mini Red Leaf Lettuce (not shown)
1 bunch Red Beets
1 bunch Thyme
1 Red Cabbage
1 lb. Brussel Sprouts
1 lb. Heirloom Tomatoes
Small Shares
1 bunch Green Kale or Spinach
1 head Broccoli or bunch of Rainbow carrots
8 oz Jerusalem Artichokes or 1 lb Heirloom Tomatoes
1 head/stalk Fennel or 1 bunch Beets
1 Acorn Squash or Red Cabbage
1 Spaghetti Squash or 1 lb. Rutabaga
1/2 lb. Kohlrabi
1/2 lb. Red Onions
1 lb. Red Potatoes
1 lb. Zucchini
2 heads Mini Boston Lettuce or Red Leaf
1/2 bunch Thyme
1 Red Cabbage
1/2 lb. Brussel Sprouts
Fruit Shares
2 lb. Rome Apples
2 lb. Jonagold Apples
2.5 lb. Bosc Pears
2.25 Sweetie Apples
Large Vegetable Share
Small Vegetable Share
Fruit Share
Large Shares
1 bunch Red Russian Kale
1 head Broccoli
1/2 head Cauliflower
1 bunch Celery
1 bunch Spinach
1 head Red Leaf Lettuce
12 oz. Zucchini
24 oz. Red or Green Bell Peppers
1 lb. Carrots
1 lb. Golden Beets
1 bunch Thyme
1 bunch Green Onions
1 stalk Brussel Sprouts
2 lb. Yellow Heirloom or Red Field Tomatoes
24 oz. Green Tomatoes
Small Shares
1 bunch Red Russian Kale, Red Leaf Lettuce or Spinach
1 head Broccoli or 1/2 head Cauliflower
1 bunch Celery
12 oz. Zucchini or 1 lb. Golden Beets
12 oz. Red or Green Bell Peppers
1/2 lb. Carrots
1/2 bunch Thyme
1/2 bunch Green Onions
6 oz. Brussel Sprouts
1 lb. Yellow Heirloom or Red Field Tomatoes
12 oz. Green Tomatoes
Fruit Shares
2 lbs. Empire Apples
2 lbs. Golden Supreme Apples
1 lbs. Asian Pears
1 lbs. Niagra Grapes
Large Vegetable Share
Small Vegetable Share
Fruit Share
Large Shares
1 Butternut Squash
1 Rutabaga
1 head Red Leaf Lettuce
20 oz. Yellow Squash or Zucchini
18 oz. Japanese, White or Italian Eggplant
18 oz. Carrots
2 lb. Potatoes
1 bunch Collard Greens
1 bunch Radishes
1 bunch Celery
1 bunch Golden or Red Beets
1 bunch Lemongrass
1 bunch Spinach
1/2 head Cauliflower
1 stalk Brussel Sprouts
1 lb. Sweet Red or Green Bell Peppers
3 lbs. Plum Tomatoes
Take what you want Jalepenos
Small Shares
1 Butternut Squash or 1 bunch Golden or Red Beets
1 Rutabaga or 1/2 head Cauliflower or 1 stalk Brussel Sprouts
1 bunch Collard Greens or 1 bunch Celery
10 oz. Yellow Squash or Zucchini
9 oz. Japanese, White or Italian Eggplant
9 oz. Carrots
1 lb. Potatoes
1/2 bunch Radishes
1/2 bunch Lemongrass
1 bunch Spinach or 2 heads Red Leaf Lettuce
1/2 lb. Sweet Red or Green Bell Peppers
1.5 lbs. Plum Tomatoes
Take what you want Jalepenos
Fruit Shares
2.5 lbs. Fuji Apples
2 lbs. Mutsu Apples
2 lbs. Asian Pears
2 lbs. Niagra Grapes
Large Vegetable Share
Small Vegetable Share
Fruit Share
Large Shares
1 Sweet Pie Pumpkin
1 Acorn Squash
1 head Romaine Lettuce
1 head Red Leaf Lettuce
20 oz. Yellow Squash, Patty Pan or Zucchini
24 oz. Mini Italian Eggplant
18 oz. Turnips
1 bunch Curly Kale
1 bunch Radishes
1 bunch Italian Parsley
1 bunch Arugula
1 head Savoy Cabbage
4 lbs. Brussel Sprouts
8 oz. Okra
20 oz. Sweet Red, Yellow or Orange Bell Peppers
20 oz. Plum Tomatoes
1 Pint Cherry Tomatoes
Small Shares
1 Sweet Pie Pumpkin or Acorn Squash
1 head Romaine or Red Leaf Lettuce
10 oz. Yellow Squash, Patty Pan or Zucchini
12 oz. Mini Italian Eggplant
9 oz. Turnips
1 bunch Curly Kale or 1 bunch Arugula
1/2 bunch Radishes
1/2 bunch Italian Parsley
1/2 head Savoy Cabbage
2 lbs. Brussel Sprouts
4 oz. Okra
10 oz. Sweet Red, Yellow or Orange Bell Peppers
10 oz. Plum Tomatoes
1/2 Pint Cherry Tomatoes
Fruit Shares
2 lbs. Macintosh Apples
2 lbs. Mutsu Apples
2 lbs. Asian Pears
1 lbs. Concord Grapes
Large Vegetable Share
Fruit Share
Large Shares
2 heads of either Red Leaf, Green Leaf or Bib Lettuce
2 lb. Zucchini
1 Spaghetti Squash
1 Blue Mini Hubbard Squash
1 bunch Scallions
1 bunch Swiss Green Chard
1 bunch Celery
1 lb. Broccoli
20 oz. Italian Eggplant
2 lbs. Brussel Sprouts
12 oz. Sweet Red, Yellow or Orange Bell Peppers
4 oz Habemero Peppers
3 oz. Poblano Peppers
1 lb. Field Tomatoes
1.25 lb. Plum Tomatoes
1 lb. Heirloom Tomatoes
1 box Baby Heirlooms
Small Shares
1 or 2 heads of Red Leaf, Green Leaf or Bib Lettuce
1 lb. Zucchini
1 Spaghetti Squash or 2 Blue Mini Hubbard Squash or 1 bunch Celery
1/2 bunch Scallions
1/2 bunch Swiss Green Chard
.50 lb. Broccoli
10 oz. Italian Eggplant
1 lbs. Brussel Sprouts
6 oz. Sweet Red, Yellow or Orange Bell Peppers
4 oz Habemero Peppers or 3 oz. Poblano Peppers
.50 lb. Field Tomatoes
.75 lb. Plum Tomatoes
.50 lb. Heirloom Tomatoes
1/2 box Baby Heirlooms
Fruit Shares
2 lbs. Empire Apples
2 lbs. Mystery Red Apples
2 lbs. Devoe Pears
1 pint Cape Gooseberries
Large Vegetable Share
Small Vegetable Share
Fruit Share
Large Shares
2 heads of either Red Leaf, Romaine or Bib Lettuce
3 lb. Zucchini, Padipan or Yellow Squash
1 Butternut Squash
1 Sweet Pie Pumpkin
1 bunch Italian Parsley
1 bunch Oregano
1 bunch Curly Kale
1 lb. Red Onions
2 lb. Yukon Gold Potatoes
1 lb. Carrots
1.5 lb Okra
1 lb. Sweet Red Baby Bell and Frying Peppers
1 lb. Green Bell Peppers
1 head Red Cabbage
1.5 lb. Italian or Prosperosa Eggplant
.75 oz. Cucumbers
Small Shares
1 head of either Red Leaf, Romaine or Bib Lettuce
1.5 lb Zucchini, Padipan or Yellow Squash
1 Butternut Squash or Sweet Pie Pumpkin
1/2 bunch Italian Parsley
1/2 bunch Oregano
1/2 bunch Curly Kale
1/2 lb. Red Onions
1 lb. Yukon Gold Potatoes
1/2 lb. Carrots
.75 lb. Okra
1/2 lb. Sweet Red Bell Peppers
1/2 lb. Green Bell Peppers
1/2 head Red Cabbage
.75 lb Italian or Prosperosa Eggplant
.75 lb Cucumbers or extra head of lettuce
Fruit Shares
2 lbs. Cortland Apples
2 lbs. Sweeties Apples
2 lbs. Asian Pears
1 lbs Niagra Grapes
Large Vegetable Share
Small Vegetable Share
Fruit Share
Large Shares
1 head Green Leaf Lettuce
1 head Red Leaf Lettuce
42 oz. Zucchini, Padipan or Yellow Squash
1 Butternut Squash
1 Acorn Squash
4 Ears Corn
1 bunch Italian Cilantro
1 bunch Mint
1 bunch Golden Beets
1 bunch Radishes
1 bunch Celery
24 oz Broccoli
1 lb Brussel Sprouts
.75 lb. Sweet Red Bell Pepper
1 bunch Green Chard
2.5 lbs. Beefsteak Tomatoes
28 oz Italian Eggplant
42 oz Cucumbers
Take what you want Hot Peppers
Small Shares
1 head Green Leaf or 1 head Red Leaf Lettuce
21 oz. Zucchini, Padipan or Yellow Squash
1 Butternut Squash/Acorn Squash or 1 bunch Green Chard
2 Ears Corn
1/2 bunch Italian Cilantro
1/2 bunch Mint
1 bunch Golden Beets or 1 bunch Celery
1/2 bunch Radishes
12 oz Broccoli
.50 lb. Sweet Red Bell Pepper
1.25 lbs. Beefsteak Tomatoes
14 oz Italian Eggplant
21 oz Cucumbers
Take what you want Hot Peppers
Fruit Shares
2 lbs. Gala Apples
2 lbs. Golden Supreme Apples
2 lbs. Devoe Pears
1 lbs Concord Grapes
Large Vegetable Share
Small Vegetable Share
Fruit Share
Large Shares
1 head Romaine Lettuce
1 head Red Leaf Lettuce
2 lbs. Zucchini or Yellow Squash
1 Spaghetti Squash
4 Ears Corn
1 bunch Italian Parsley
1 bunch Oregano
1 stalk Brussel Sprouts
1.5 lb. Sweet Bell or Italian Frying Peppers
1 bunch Collards
1.5 lb. Yellow Plum, Beefsteak or Heirloom Tomatoes
20 oz Carrots
3 lbs. Cucumbers
Take what you want Hot Peppers
Small Shares
1 head Romaine Lettuce or 1 head Red Leaf Lettuce
2 lbs. Zucchini or Yellow Squash or 1 Spaghetti Squash
2 Ears Corn
1/2 bunch Italian Parsley
1/2 bunch Oregano
.75 lb Brussel Sprouts
.75 lb. Sweet Bell or Italian Frying Peppers
1/2 bunch Collards
.75 lb. Yellow Plum, Beefsteak or Heirloom Tomatoes
10 oz Carrots
1.5 lbs. Cucumbers
Take what you want Hot Peppers
Fruit Shares
2 lbs. Gala Apples
2 lbs. Clapp Pears
1 lb. Sickle Pears
1.25 lbs Concord Grapes
1 Pint Gooseberries
Large Vegetable Share
Small Vegetable Share
Fruit Share
Large Share (not pictured):
1.5 lbs. Potatoes
1.5 lbs. Yellow Onions
1.5 lb. Yellow, Orange or Red Bell Peppers
2.5 lbs. Yellow, Green and Padi Pan Zucchini
2 lb. Cucumbers
1 lb. Broccoli
1 head Red Leaf
1 head Romaine
1 head Escarole
1 head Red Cabbage
1 Red Spaghetti Squash
5 ears of Corn
1 bunch Celery
1 bunch Curly Kale
1 bunch Leeks
1 bunch Scallions
1 bunch Cilantro
.25 lb Japanese Shishito Peppers
Take what you want Jalapeño Peppers
Small Share:
.75 lbs. Potatoes
.75 lbs. Yellow Onions
.75 lb. Yellow, Orange or Red Bell Peppers
1.25 lb. Yellow, Green and Padi Pan Zucchini
1/2 lb. Broccoli
1 head Red Leaf or Romaine Lettuce
1 head Escarole or 1 head Red Cabbage
1 Red Spaghetti Squash or 1 bunch Curly Kale
2 ears of Corn
1 bunch Celery or 1 bunch Leeks
1/2 bunch Scallions
1/2 bunch Cilantro
.25 lb Japanese Shishito Peppers
Take what you want Jalapeño Peppers
Fruit Share:
1.5 lbs. Ginger Gold Apples
1.5 lbs. Red Zestar Apples
1.5 Devoe Pears
1 lb. Italian Plums
Small Vegetable Share
Fruit Share
Large Share:
2 lbs. Potatoes
2 lbs. Yellow Onions
1 lb. Carrots
1.5 lb. Cucumbers
1.5 lb. Yellow or Green Zucchini
1 lb. Broccoli
1.5 lb. Italian Frying Peppers
1 head Red Leaf
1 head Green Leaf
1 head Romaine
1 head Green Cabbage
4 ears of Corn
1 bunch Celery
1 bunch Collard Greens
1 bunch Leeks
1 bunch Scallions
1 bunch Cilantro
1 bunch Italian Parsley
2 head.s mini Red Cabbage
1.5 lbs.Yellow Tomatoes
2 lbs. Plum Tomatoes
2 lbs. Beefsteak Tomatoes
Take what you want Jalepeno Peppers
Small Share:
1 lbs. Potatoes
1 lbs. Yellow Onions
1/2 lb. Carrots
.75 lb. Cucumbers
.75 lb. Yellow or Green Zucchini
10 oz. Broccoli
.75 lb. Sweet Italian Frying Peppers
1 head Red Leaf
1 head Green Leaf or Romaine
1 head Green Cabbage or 1 bunch of Collard Greens
2 ears of Corn
1 bunch Leeks or Scallions
1 bunch Cilantro or Italian Parsley
2 heads mini Red Cabbage
.75 lbs. Yellow Tomatoes
1 lbs. Plum Tomatoes
1 lbs. Beefsteak Tomatoes
Take what you want Jalepeno Peppers
Fruit Share:
3 lbs. Apples
2 lbs. Pears
1 Cantaloup Melon
Large Vegetable Share
Small Vegetable Share
Fruit Share
Weekly Shares
August 29, 2017
Large Shares
1 head Romaine Lettuce
1 head Butter Lettuce
2 heads Broccoli
3 lbs. Napa Cabbage
4 Ears Corn
1 bunch Cilantro
1 bunch Oregano
1 bunch Green Kale
2 lbs. Yellow and Green Squash
1 lb. Bell Peppers
1 lb. Asian Eggplants
1 lb. Yellow Beefsteak Tomatoes
2 lbs. Roma Tomatoes
1.5 lbs. Yellow Onions
1.5 lbs. Cucumbers
1 lb. Tomatillos
Take what you want Jalapeños
Small Shares
1 head Romaine Lettuce or Butter Lettuce
1 head Broccoli
1.5 lbs Napa Cabbage
2 Ears Corn
1/2 bunch Cilantro
1/2 bunch Oregano
1/2 bunch Green Kale
1 lbs. Zucchini
1/2 lb. Bell Peppers
1/2 lb. Asian Eggplants
1/2 lb. Yellow Beefsteak Tomatoes
1 lbs. Roma Tomatoes
.75 lbs. Yellow Onions
.75 lbs. Cucumbers
Take what you want Jalapeños
Large Vegetable Share
Small Vegetable Share
Weekly Shares
August 22, 2017
Large Share:
2 lb. Yellow, Paddy pan, or Starfire Squash
1.25 lb. Various Asian and Sprciatty Eggplant
1 lb. Islander, Merlot Dark, Flavor Burst or Green Peppers
7 oz. Okra
1 head Iceberg
1 head Boston Bib
4 ears of Corn
2 bunches Red Chard
1 bunch Scallions
1 bunch Collard Greens
1 bunch Basil
1 bunch Red Beets
1 bunch Spring Carrots
4 lbs Plum Tomatoes
2.5 lbs. Heirloom Tomatoes
1 box Baby Heirloom Tomatoes
7 oz.Cherry Bomb, Havasu or Jalepeno Peppers
Small Share:
1 lb. Yellow, Paddy pan, or Starfire Squash
1.25 lb. Various Asian and Sprciatty Eggplant or 7 oz. Okra
1/2 lb. Islander, Merlot Dark, Flavor Burst or Green Peppers
1 head Iceberg or Boston Bib
2 ears of Corn
1 bunches Red Chard
1/2 bunch Scallions
1/2 bunch Collard Greens
1/2 bunch Basil
1/2 bunch Red Beets
1/2 bunch Spring Carrots
2 lbs Plum Tomatoes
1.25 lbs. Heirloom Tomatoes
7 oz.Cherry Bomb, Havasu or Jalepeno Peppers
Fruit Share:
2 lbs. European Plums
2 lbs. Clapp Green Pears Pint of Blackberries
3 lbs. Peaches
Large Vegetable Share
Small Vegetable Share
Fruit Share
Weekly Shares
August 15, 2017
Large Share:
2.5 lb. Cucumbers
2.5 lb. Yellow, Paddy pan or Green Zucchini
2 lb. White, Italian or Japanese Eggplant
1.5 lb. Islander, Merlot Dark, Flavor Burst or Green Peppers
1 lb. String Beans
1 lb. Red Onions
2 heads Broccoli
2 heads of either Red Leaf, Boston Bib or Romaine
4 ears of Corn
1 bunch Curly Kale
1 bunch Leeks
1 bunch Lemon Basil
1 bunch Radishes
1 bunch Italian Agretti
2 lbs .Yellow Tomatoes
3.5 lbs. Heirloom Tomatoes
Take what you want Jalepeno Peppers
Small Share:
1.25 lb. Cucumbers
1.25 lb. Yellow, Paddy pan or Green Zucchini
1 lb. White, Italian or Japanese Eggplant
.75 lb. Islander, Merlot Dark, Flavor Burst or Green Peppers
.5 lb. String Beans
.5 lb. Red Onions
1 heads Broccoli
1 heads of either Red Leaf, Boston Bib or Romaine
2 ears of Corn
1/2 bunch Curly Kale
1/2 bunch Leeks
1/2 bunch Lemon Basil
1 bunch Radishes or Leeks
1/2 bunch Italian Agretti
1 lbs .Yellow Tomatoes
1.75 lbs. Heirloom Tomatoes
Take what you want Jalepeno Peppers
Fruit Share:
1 Meion
1/2 Pint of Blackberries
2.5 lbs of Peaches
Large Vegetable Share
Small Vegetable Share
Fruit Share
Weekly Shares
August 8, 2017
Large Share:
2.5 lb. Cucumber
2.5 lb. Zucchini
1.5 lb. Fairytale, Italian or Japanese Eggplant
1.5 lb. Green Peppers
1 head Cauliflower
1 head Red Leaf
1 head Chicory aka Curly Endive
4 ears of Corn (later increased to 5)
1 bunch Collards
1 bunch Spring Carrots
1 bunch Scallions
1 bunch Thyme
20 oz Tomatoes
8 oz. Red Okra
8 oz various Hot Peppers
Small Share:
1.25 lb. Cucumber
1.25 lb. Zucchini
.75 lb. Fairytale, Italian or Japanese Eggplant
.75 lb. Green Peppers
1/2 head Cauliflower
1 head Red Leaf or Chicory aka Curly Endive
2 ears of Corn (later increased to 3)
1/2 bunch Collards
1/2 bunch Spring Carrots
1/2 bunch Scallions
1/2 bunch Thyme
10 oz Tomatoes
4 oz. Red Okra
4 oz various Hot Peppers
Fruit Share:
2 lbs Pears
2 lbs Peaches
1 Pint Blackberries
Large Vegetable Share
Small Vegetable Share
Fruit Share
Weekly Shares
August 1, 2017
Large Share:
2.5 lb. Cucumber
2.5 lb. Zucchini
1.5 lb. Japanese Eggplant
22 oz. String beans
1 head Romaine
1 head Boston
1 head Red Leaf
1 head Barese Chard
1 head Fennel
4 ears of Corn
1 bunch Green Curly Kale
1 bunch Red Beets
1 bunch Scallions
1 bunch Mexican Mint
1 bunch Early Celery
1 bunch Curly Parsley
8 oz. Red Okra
Take what you want Dried Hot Peppers
Small Share:
1.25 lb. Cucumber
1.25 lb. Zucchini
.75 lb. Japanese Eggplant
11 oz. Stringbeans
1 head Romaine, Boston or Red Leaf Lettuce
1 head Barese Chard or Fennel
2 ears of Corn
1 bunch Green Curly Kale or 1 bunch Red Beets
1 bunch Mexican Mint or 1 bunch Early Celery
1/2 bunch Scallions
1/2 bunch Curly Parsley
4 oz. Red Okra
Take what you want Dried Hot Peppers
Fruit Share:
3 lbs. White Peaches
1.5 lbs. Donut Peaches
1.25 lbs Pears
Large Vegetable Share
Small Vegetable Share
Fruit Share
Weekly Shares
July 25, 2017
Large Share:
2 lb. Cucumber
1 Lg. Striped Armenian Cucumber
1 Melon Tondo Cucumber
2 lb. Italian, Mauve or Prosperosa Eggplant
1.5 lb. Yellow/Green/Patty Pan Squash
1 head Romaine
1 head Iceberg
1 head Red Leaf
4 ears of Corn
1 bunch Spring Carrots
1 bunch Green Curly Kale
1 bunch Golden Beets
1 bunch Scallions
1 bunch Thyme
1 bunch Basil
1 bunch Red Onions
8 Jalepeno Peppers
8 oz. Okra
Small Share:
1 lb. Cucumber
1 Sm. Striped Armenian Cucumber
1 lb. Italian, Mauve or Prosperosa Eggplant
.75 lb. Yellow/Green/Patty Pan Squash
2 ears of Corn
1/2 bunch Spring Carrots
1/2 bunch Green Curly Kale
1/2 bunch Scallions
1/2 bunch Thyme
1/2 bunch Basil
4 Jalepeno Peppers
4 oz. Okra
1 head Romaine, Iceberg or Red Leaf Lettuce
1 bunch Golden Beets or 1 bunch Red Onions
Fruit Share:
2.5 lbs. Nectarines
2.5 lbs. Peaches
Large Vegetable Share
Small Vegetable Share
Fruit Share
Weekly Shares
July 18, 2017
Large Share:
2 lb. Melon Tondo Cucumber
2 lb. Yellow Squash
1 head Fennel
1 head Escarole
4 (later increased to 6) ears of Corn
1 bunch Spring Carrots
1 bunch Rainbow Chard
1 bunch Italian Parsley
1 bunch Thai Basil
1 bunch Dill
1 bunch Oregano (not pictured)
1 head Green Butterhead Lettuce
1 Arrowhead Cabbage
1 Jar of Classic Tomato or Spicy Tomato Sauce from Jar Goods
Small Share:
1 lb. Melon Tondo Cucumber
1 lb. Yellow Squash
1/2 head Fennel or 1/2 head Arrowhead Cabbage
1 head Escarole or Green Butterhead Lettuce
2 (later increased to 3) ears of Corn
1/2 bunch Spring Carrots
1/2 bunch Rainbow Chard
1/2 bunch Italian Parsley
1 bunch Thai Basil or Oregano
1/2 bunch Dill - optional
1 Jar of Classic Tomato or Spicy Tomato Sauce from Jar Goods
Fruit Share:
1 Quart Sweet Cheeries and 1 Quart Montmorency Cherries (tart for baking or lemonades)
Large Vegetable Share
Small Vegetable Share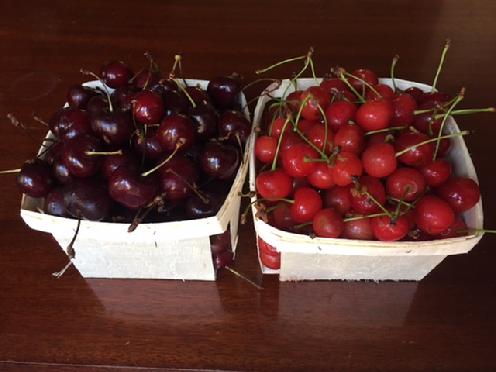 Fruit Share
Weekly Shares
July 11, 2017
Large Share:
2 lb. Cucumbers
2 lb. Squash
1 lb. Red Onions
1.5 lb. Tomatoes
1 head Cauliflower
1 bunch Spring Carrots
1 bunch Collard Greens
1 bunch Chives
1 bunch Cilantro
2 bunch Basil
1 bunch Lacinato Kale
1 head Romaine Lettuce
1 Green Cabbage
Take what you want Thai Basil, Oregano, Sage
Small Share:
1 lb. Cucumbers
1 lb. Squash
3/4 lb. Red Onions
3/4 lb. Tomatoes
1 head Cauliflower
1 bunch Collard Greens or Green Cabbage
1 bunch Chives
1 bunch Basil
1/2 bunch Spring Carrots
1/2 bunch Cilantro
1/2 bunch Lacinato Kale
1/2 head Romaine Lettuce
Take what you want Thai Basil, Oregano, Sage
Fruit Share:
2 Quarts Bing or Rainier Cherries
Large Vegetable Share
Small Vegetable Share
Fruit Share
Weekly Shares
June 28, 2017
Large Veggie Share:
1/2 lb Snap peas
8 Garlic Scapes
1 bunch Arugula
1 bunch Radishes
1 bunch Collard Greens
1 bunch Golden Beets
1 bunch Mint
1 bunch Basil
1 bunch Green Swiss Chard
4 heads Boston Red Lettuce
1 Arrowhead Cabbage

Small Veggie Share:
4.5 oz Snap peas
4 Garlic Scapes
1/2 bunch Arugula
1/2 bunch Collard Greens
1/2 bunch Mint
1/2 bunch Basil
1/2 bunch Green Swiss Chard
2 heads Boston Red Lettuce
1 bunch Radish or Arrowhead Cabbage or 1/2 bunch of Golden Beets
Fruit Share:
1 Quart Strawberries
1 Quart Bing (pictures) or Rainier Cherries
Large Vegetable Share
Small Vegetable Share
Fruit Share
Weekly Shares
June 21, 2017
Large Veggie Share
2 lb Yellow Onions
2 lb Red Potatoes
5 Garlic Scapes
2 bunches Arugula
1 bunch Radishes
1 bunch Green Curly Kale
1 bunch Mint
1 bunch Sage
1 bunch Oregano
1 bunch Dandelion Greens
1 head Red Frisee Lettuce
1 head Green Frisee Lettuce
1 head Napa Cabbage
1 head Escarole
1 head Red Cabbage
Small Veggie Share
1 lb Yellow Onions
1 lb Red Potatoes
2 Garlic Scapes
1 bunch Arugula
1 bunch Radishes
1/2 bunch Green Curly Kale
1/2 bunch Mint
1/2 bunch Sage
1/2 bunch Oregano
1/2 bunch Dandelion Greens
1 Escarole, Napa Cabbage or Red Cabbage
1 Green or Red Frisee Lettuce
Large Vegetable Share
Small Vegetable Share
Fruit Share
Weekly Shares
June 14, 2017
Large Veggie Share
1 bunch Asian Greens (hon tsai tai)
Small Veggie Share
1 lb Onions or Asian Greens Hon Tsai Tai
1 Escarole or 1 Napa Cabbage
1 Barese Swill Chard or 1 Spinach
Large Vegetable Share
Small Vegetable Share
Fruit Share
Weekly Shares
November 22, 2016
LARGE VEGGIE SHARE
2 lbs brussel sprouts
¾ lb parsnips
1 lb golden beets
1½ lb broccoli
1½ lb tomatoes
2 lbs Yukon gold potatoes
1 bunch parsley
2 heads garlic
½ lb shallots
1 lb red onions
1 butternut squash
1 acorn squash
1 bunch celery
1 bunch collard greens
1 bunch carrots
Take what you want dried red peppers
SMALL VEGGIE SHARE
1 lb brussel sprouts
Choice of ¾ lb parsnips or 1 lb golden beets
¾ lb broccoli
¾ lb tomatoes
1 lb Yukon gold potatoes
½ bunch parsley
1 head garlic
¼ lb shallots
½ lb red onions
Choice of 1 butternut squash or 1 acorn squash
Choice of 1 bunch celery or 1 bunch collard greens
1 bunch carrots
Take what you want dried red peppers
FRUIT SHARE
2 lbs Bosc pears
2 lbs Gala apples
2 lbs Empire apples
Large Vegetable Share
Small Vegetable Share
Fruit Share
Weekly Shares
November 15, 2016
LARGE VEGGIE SHARE
1 lbs green peppers
1½ lb tomatoes
1 lb broccoli
2 lb beets
Take all you want dried hot peppers
1 butternut squash
1 spaghetti squash
1 bunch turnips
1 celery root
1 head green cabbage
1 bunch spinach
1 head green leaf lettuce
1 bunch scallions
1 bunch cilantro
1 bunch Red Russian kale
SMALL VEGGIE SHARE
½ lb green peppers
¾ lb tomatoes
½ lb broccoli
Take all you want dried hot peppers
Choice of 1 butternut squash or 1 spaghetti squash
Choice of 1 bunch turnip or 1 celery root
½ head green cabbage
Choice of 1 bunch spinach or 1 head green leaf lettuce
½ bunch scallions
½ bunch cilantro
½ bunch Red Russian kale
FRUIT SHARE
2 lbs Bosc pears
2 lbs Jonamac apples
2 lbs Mutsu apples
Large Vegetable Share
Small Vegetable Share
Fruit Share
Weekly Shares
November 8, 2016
LARGE VEGGIE SHARE
2 lbs carrots
1½ lb plum and field tomatoes
2 heads garlic
1½ lb Brussel sprouts
1 lb Green Peppers
1 bunch kale
1 bunch arugula
1 bunch collard greens
1 bunch spinach
1 head green leaf lettuce
1 lb turnips
2 lb yellow onions
3 lb white potatoes
1 bunch cilantro
1 bunch tarragon
1 pumpkin
Choice of 1 butternut squash or 1 Delicata squash
SMALL VEGGIE SHARE
1 lb carrots
¾ lb plum and field tomatoes
1 head garlic
¾ lb Brussel sprouts
½ lb Green Peppers
Choice of 1 bunch kale or 1 bunch arugula
Choice of 1 bunch spinach or 1 head green leaf lettuce
½ lb turnips
1 lb yellow onions
1½ lb white potatoes
½ bunch cilantro
½ bunch tarragon
Choice of 1 pumpkin or 1 butternut squash or 1 Delicata squash
FRUIT SHARE
2½ lbs Bosc pears
2½ lbs Golden Delicious apples
2½ lbs Mutsu apples
Large Vegetable Share
Small Vegetable Share
Fruit Share
Weekly Shares
November 1, 2016
LARGE VEGGIE SHARE
1 lb beets
1 lb fingerling potatoes
1 head cabbage
11 oz bell peppers
7 oz parsnips
8 oz cipollini onions
1 bunch scallions
1 acorn squash
1 rutabaga
1 large carrot
1 bunch spinach
1 head red leaf lettuce
1 bunch celery
1 lb plum tomatoes
1 bunch sage
1 bunch cilantro
SMALL VEGGIE SHARE
½ lb beets
½ lb fingerling potatoes
½ head cabbage
5 oz bell peppers
3½ oz parsnips
4 oz cipollini onions
½ bunch scallions
Choice of 1 acorn squash or 1 rutabaga or 1 large carrot
Choice of 1 bunch spinach or 1 head red leaf lettuce
½ bunch celery
½ lb plum tomatoes
Choice of 1 bunch sage or 1 bunch cilantro
FRUIT SHARE
1 lb Bosc pears
2½ lbs cameo apples
2½ lbs Stayman apples
Large Vegetable Share
Small Vegetable Share
Fruit Share
Weekly Shares
October 25, 2016
LARGE VEGGIE SHARE
2 lbs Yukon gold potatoes
1 lb yellow onions
1 head cauliflower
1½ lb Brussel sprouts
½ lb bell peppers
1 bunch celery
1 bunch kale
1 bunch arugula
1 bunch beets
1 head green leaf lettuce
1 head red leaf lettuce
1 Carnival squash
1 pie pumpkin
2 eggplant
Take what you want mixed hot peppers
1 bunch parsley
1 bunch mint
2 heirloom tomatoes
1 gourd
SMALL VEGGIE SHARE
1 lb Yukon gold potatoes
½ lb yellow onions
¾ lb Brussel sprouts
¼ lb bell peppers
½ bunch celery
1 bunch kale
Choice of 1 head cauliflower or 1 bunch beets
Choice of 1 head green leaf lettuce or 1 head red leaf lettuce
Choice of 1 Carnival squash or 1 pie pumpkin
1 eggplant
Take what you want mixed hot peppers
1 bunch parsley
1 heirloom tomato
1 gourd
FRUIT SHARE
2 lbs Bosc pears
2 lbs empire apples
2 lbs Jonagold apples
1 lb Concord grapes
Large Vegetable Share
Small Vegetable Share
Fruit Share
Weekly Shares
October 18, 2016
LARGE VEGGIE SHARE
2 lbs red potatoes
1½ lbs carrots
2 stalks Brussels sprouts
1 lb bell peppers
3½ oz Mariachi peppers
1 bunch celery
1 bunch spinach
1 head Boston lettuce
1 head red leaf lettuce
1 Kabocha squash
1 pie pumpkin
Take what you want zucchini
Take what you want eggplant
1 bunch sage
1 bunch radishes
1 bunch scallions
1 pint cherry heirloom tomatoes
1 lb Roma tomatoes
SMALL VEGGIE SHARE
1 lb red potatoes
¾ lbs carrots
1 stalk Brussels sprouts
½ lb bell peppers
1¾ oz Mariachi peppers
½ bunch celery
½ bunch spinach
Choice of 1 head Boston lettuce or 1 head red leaf lettuce
Choice of 1 Kabocha squash or 1 pie pumpkin
Take what you want zucchini
Take what you want eggplant
1 bunch sage
½ bunch radishes
½ bunch scallions
½ pint cherry heirloom tomatoes
½ lb Roma tomatoes
FRUIT SHARE
2 lbs pears
2½ lbs apples
2 lbs Concord grapes
Large Vegetable Share
Small Vegetable Share
Fruit Share
Weekly Shares
October 11, 2016
LARGE VEGGIE SHARE
2 lbs red potatoes
2 lbs yellow onions
2 honeynut squash
2 lbs Brussels sprouts
2 lbs bell peppers
1 head romaine letteuce
1 head red leaf lettuce
1 head cabbage
Take what you want zucchini/yellow squash
1 bunch parsley
1 bunch mint
1 bunch sage
1 bunch cilantro
1 pint gooseberries
1 pint cherry tomatoes
1½ lbs plum tomatoes
1½ lbs Beefsteak tomatoes
SMALL VEGGIE SHARE
1 lb red potatoes
1 lb yellow onions
1 honeynut squash
1 lb Brussels sprouts
1 lb bell peppers
Choice of 1 head romaine letteuce or 1 head red leaf lettuce
½ head cabbage
Take what you want zucchini/yellow squash
½ bunch parsley
½ bunch mint
½ bunch sage
½ bunch cilantro
1 pint gooseberries
1 pint cherry tomatoes
¾ lbs plum tomatoes
¾ lbs Beefsteak tomatoes
FRUIT SHARE
2 lbs Bartlett pears
2½ lbs Fuji apples
2 lbs Concord grapes
Large Vegetable Share
Small Vegetable Share
Fruit Share
Weekly Shares
September 27, 2016
LARGE VEGGIE SHARE
2 ears corn
1.35 lbs eggplant
2 lbs zucchini
1.8 lbs broccoli
2 lbs bell peppers
1 head romaine lettuce
1 head red leaf lettuce
1 bunch of chicory
1 bunch of kale
1 bunch of celery
1 bunch of radishes
1 bunch of carrots
2 lbs red potatoes
1 bunch sage
1 bunch parsley
1 acorn squash
1½ lbs cucumbers
1 lb regular tomatoes
2 lbs plum tomatoes
SMALL VEGGIE SHARE
1 ear corn
¾ lbs eggplant
1 lb zucchini
1 lb broccoli
1 lb bell peppers
Choice of 1 head romaine lettuce or 1 head red leaf lettuce
Choice of 1 bunch of chicory or 1 bunch of kale
1 bunch of celery
1 bunch of radishes
1 bunch of carrots
1 lb red potatoes
1 bunch sage
1 bunch parsley
1 acorn squash
¾ lbs cucumbers
½ lb regular tomatoes
¾ lb plum tomatoes
FRUIT SHARE
2 lbs Bartlett pears
2 lbs Yellow Gold apples
2 lbs Jonamac apples
1 lb Concord grapes
Large Vegetable Share
Small Vegetable Share
Fruit Share
Weekly Shares
September 20, 2016
LARGE VEGGIE SHARE
3 ears corn
1 lb turnips
1 spaghetti squash
1 head Boston lettuce
1 head red leaf lettuce
30 oz tomatillo
1 bunch beets
1 head cabbage
1 bunch arugula
1 bunch mint
1 bunch cilantro
1 bunch scallions
1 head broccoli
20 oz mixed bell peppers
1 ½ lbs zucchini
2 ½ lbs plum tomatoes
1 pint grape tomatoes
1 lb Mountain Magic tomatoes
SMALL VEGGIE SHARE
2 ears corn
Choice of 1 lb turnips or 1 spaghetti squash
Choice of 1 head Boston lettuce or 1 head red leaf lettuce
Choice of 1 bunch beets or 1 head cabbage
½ bunch arugula
½ bunch mint
½ bunch cilantro
½ bunch scallions
½ head broccoli
10 oz mixed bell peppers
¾ lbs zucchini
1 ¼ lbs plum tomatoes
½ pint grape tomatoes
½ lb Mountain Magic tomatoes
FRUIT SHARE
2 lbs peaches
2 lbs Devoe pears
1 pint raspberries
2 lbs Gala/Jonamac apples
1 lb grapes
Large Vegetable Share
Small Vegetable Share
Fruit Share
Weekly Shares
September 13, 2016
LARGE VEGGIE SHARE
4 ears corn
4 orange and green bell peppers
Jalapeno – Take what you want
2 lbs Yukon Gold potatoes
1 large eggplant
3 lbs zucchini and summer squash
1 head red cabbage
1 head cauliflower
1 bunch collard greens
1 spaghetti squash
1 head green leaf lettuce
1 head red leaf lettuce
1 bunch garlic chives
1 bunch rainbow carrots
1 bunch Italian parsley
1 bunch radishes
2 lbs Beefsteak/field tomatoes
2 pints cherry tomatoes
SMALL VEGGIE SHARE
2 ears corn
2 orange and green bell peppers
Jalapeno – Take what you want
1 lb Yukon Gold potatoes
1 small eggplant
1 ½ lbs zucchini and summer squash
½ head red cabbage
½ head cauliflower
Choice of 1 bunch collard greens or 1 spaghetti squash
Choice of 1 head green leaf lettuce or 1 head red leaf lettuce
½ bunch garlic chives
½ bunch rainbow carrots
½ bunch Italian parsley
½ bunch radishes
1 lbs Beefsteak/field tomatoes
1 pints cherry tomatoes
FRUIT SHARE
2 lbs Bartlett pears
2 lbs Gala apples
2 lbs Niagra grapes
Large Vegetable Share
Small Vegetable Share
Fruit Share
Weekly Shares
September 6, 2016
LARGE VEGGIE SHARE
4 ears corn
3 lbs zucchini and summer squash
4 cucumbers
Eggplant – Take what you want
1 bunch beets
1½ lbs broccoli
2 lbs red potatoes
1 bunch kohlrabi
1 bunch celery
1 spaghetti squash
1 head romaine lettuce
1 head red leaf lettuce
1 bunch radishes
2 lbs orange, yellow & red bell peppers
4 frying peppers
Jalapeno – Take what you want
1 large box cherry tomatoes
1 lb tomatillos
2 lbs plum tomatoes
8 oz heirloom tomatoes
1 bunch cilantro
1 bunch oregano
SMALL VEGGIE SHARE
2 ears corn
1½ lbs zucchini and summer squash
2 cucumbers
Eggplant – Take what you want
2 loose beets
¾ lbs broccoli
1 lb red potatoes
1 piece of kohlrabi
Choice of 1 bunch celery or 1 spaghetti squash
Choice of 1 head romaine lettuce or 1 head red leaf lettuce
1 lb orange, yellow & red bell peppers
2 frying peppers
Jalapeno – Take what you want
1 small box cherry tomatoes
1 lbs plum tomatoes
4 oz heirloom tomatoes
Choice of 1 bunch cilantro or 1 bunch oregano
FRUIT SHARE
1 pint raspberries
Pears
Apples
Grapes
Large Vegetable Share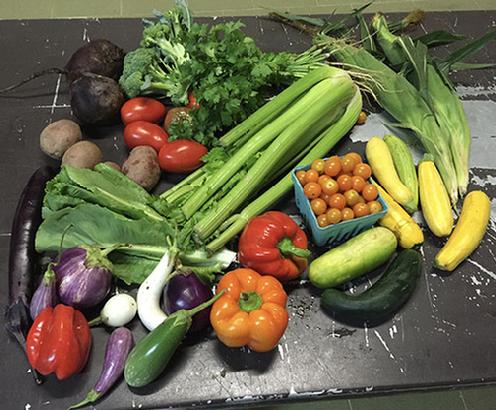 Small Vegetable Share
Fruit Share
Weekly Shares
August 30, 2016
LARGE VEGGIE SHARE
4 ears corn
4 lbs yellow pattypan squash
1½ lbs cucumber (mixed variety)
1½ lbs eggplant
1½ lbs broccoli
2 lbs frying and red peppers
1 cabbage
1 spaghetti squash
1 bunch scallions
1 bunch red chard
1 bunch curly kale
1 head Boston lettuce
1 head red leaf lettuce
1 bunch arugula
1 bunch flat leaf parsley
1 bunch oregano
1 bunch carrots
1 pint cherry tomoatoes
6 lbs field and plum tomatoes
SMALL VEGGIE SHARE
2 ears corn
2 lbs yellow pattypan squash
¾ lbs cucumber (mixed variety)
¾ lbs eggplant
¾ lbs lbs broccoli
1 lb frying and red peppers
Choice of 1 cabbage or 1 spaghetti squash
½ bunch scallions
Choice of 1 bunch red chard or 1 bunch curly kale
Choice of 1 head Boston lettuce or 1 head red leaf lettuce
½ bunch arugula
Choice of 1 bunch flat leaf parsley or 1 bunch oregano
½ bunch carrots
½ pint cherry tomoatoes
3 lbs field and plum tomatoes
FRUIT SHARE
1 pint raspberries
1 lb Asian pears
2 lbs Ginger Gold apples
Large Vegetable Share
Small Vegetable Share
Fruit Share
Weekly Shares
August 23, 2016
LARGE VEGGIE SHARE
4 ears corn
4 lbs cucumber (mixed variety)
3 lbs new potatoes
1½ lbs yellow onions
1 head cauliflower
1 lb frying peppers
1 lb green bell peppers
1 bunch beets
1 bunch celery
5 lbs heirloom tomatoes
1 pint cherry tomatoes
1 bunch collard greens
1 bunch green chard
1 bunch leeks
1 red leaf lettuce
1 romaine lettuce
1 bunch Thai basil
1 bunch tarragon
1 bunch cilantro
Eggplant, yellow and green squash — take as much as you want
SMALL VEGGIE SHARE
2 ears corn
2 lbs cucumber (mixed variety)
1½ lbs new potatoes
¾ lb yellow onions
½ head cauliflower
½ lb frying peppers
½ lb green bell peppers
½ bunch beets
½ bunch celery
2½ lbs heirloom tomatoes
½ pint cherry tomatoes
Choose 1 bunch collard greens or 1 bunch green chard
½ bunch leeks
Choose 1 red leaf lettuce or 1 romaine lettuce
Choose 1 bunch Thai basil or 1 bunch tarragon
½ bunch cilantro
Eggplant, yellow and green squash — take as much as you want
FRUIT SHARE
1 pint blackberries
1 lb Bartlett pears
2 lbs. Ginger Gold apples
Large Vegetable Share
Small Vegetable Share
Weekly Shares
August 16, 2016
LARGE VEGGIE SHARE
8 ears corn
3 lbs zucchini
2 lbs eggplant
2 lbs cucumber
3 lbs potatoes
1½ lbs green peppers
7 oz hot peppers
1 bunch scallions
1 green leaf or romaine lettuce
1 red leaf lettuce
1 bunch chard
1 bunch kale
1 bunch radishes
1 bunch carrots
1 bunch basil
1 bunch parsley
2 lbs tomatoes
1½ lbs heirloom tomatoes
1 bunch beets
SMALL VEGGIE SHARE
5 ears corn
1½ lbs zucchini
1 lb eggplant
1 lb cucumber
1½ lbs potatoes
¾ lbs green peppers
3½ oz hot peppers
½ bunch scallions
Choice of green leaf or romaine lettuce
1 bunch chard
1 bunch radishes
½ bunch carrots
½ bunch basil
½ bunch parsley
1 lb tomatoes
¾ lbs heirloom tomatoes
FRUIT SHARE
1 melon
1 pint blackberries
Large Vegetable Share
Small Vegetable Share
Fruit Share
Weekly Shares
August 9, 2016
Large Share:
1 Head romaine
1 Head red leaf
1 bunch Red Kale
1 bunch Chard
1 bunch Mustard Greens
1 Celery
1 bunch Radishes
1 bunch Red Beets
4 ears Corn
1/2 lb String beans
1 lb Zucchini
1 lb Yellow squash
1 lb Red onions
2 lb Eggplant
2 lb Cucumbers
3 Green Peppers
6 Jalepeno peppers
2 lb Beefsteak tomatoes
1 lb Heirloom Tomatoes
1.5 lbs Plum Tomatoes
1 pint Cherry tomatoes
1 bunch Sage
1 bunch Mint
Small Shares:
Choice of 1 head Romaine or 1 head Red Leaf
Choice of 1 bunch of Red Kale or 1 bunch Chard
Choice of 1 bunch Mustard Greens or bunch of Celery
1 bunch Radishes
1/2 bunch Red Beets
2 ears of Corn
1/24 lb String beans
1/2 lb Zucchini
1/2 lb Yellow squash
1/2 lb Red onions
1 lb Eggplant
1 lb Cucumbers
1 Green Peppers
3 Jalepeno peppers
1 lb Beefsteak tomatoes
1/2 lb Heirloom Tomatoes
3/4 lb Plum Tomatoes
1/2 pint Cherry tomatoes
1/2 bunch Sage
1/2 bunch Mint
Fruit:
2 melons
1 Pint Black Berries
1 lb Ginger Gold apples
Large Vegetable Share
Small Vegetable Share
Fruit Share
Weekly Shares
August 2, 2016
LARGE VEGGIE SHARE
1 head Boston lettuce
1 head leaf lettuce
1 bunch Swiss chard
1 bunch arugula
1 bunch kohlrabi
2½ lb tomatoes
4 ears corn
3½ lbs zucchini
3 lbs eggplant
2 lbs green peppers
4.8 oz Shisito peppers
1 bunch carrots
4 lbs cucumbers
1 bunch scallions
1 bunch basil
1 bunch oregano
SMALL VEGGIE SHARE
Choice of 1 head Boston lettuce or 1 head leaf lettuce
Choice of 1 bunch Swiss chard or 1 bunch arugula
1¼ lbs tomatoes
2 ears corn
1¾ lbs zucchini
1½ lbs eggplant
1 lbs green peppers
2.4 oz Shisito peppers
½ bunch carrots
2 lbs cucumbers
½ bunch scallions
½ bunch basil
½ bunch oregano
FRUIT SHARE
1 melon
3-4 apples
1 pint blackberries
Large Vegetable Share
Small Vegetable Share
Fruit Share
Weekly Shares
July 26, 2016
LARGE VEGGIE SHARE
1 head Boston lettuce
1 bunch kale
1 bunch radishes
1 bunch golden beets
1 ½ lb heirloom tomatoes
4 ears corn
4 lbs zucchini
2 lbs eggplant
1 ½ lbs red onions
4 lbs cucumbers
1 bunch Thai basil
1 bunch cilantro
SMALL VEGGIE SHARE
Choice of 1 head Boston lettuce or 1 bunch kale
½ bunch radishes
½ bunch golden beets
¾ lb heirloom tomatoes
2 ears corn
2 lbs zucchini
1 lb eggplant
1 lb red onions
2 lbs. cucumbers
½ bunch Thai basil
½ bunch cilantro
FRUIT SHARE
1 melon (cantaloupe or honey dew)
3-4 apples
1 pint raspberries, blueberries or blackberries
Large Vegetable Share
Small Vegetable Share
Fruit Share 1 of 2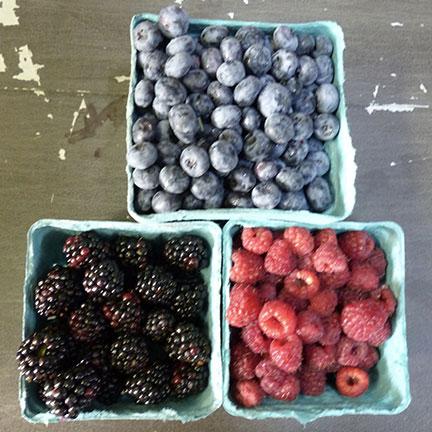 Fruit Share 2 of 2 - Choice of Blueberries, Raspberries or Blackberries
Weekly Shares
July 19, 2016
LARGE VEGGIE SHARE
1 head boston lettuce
1 head red leaf lettuce
1 bunch red beets
1 bunch carrots
1 head escarole
4 ears corn
2 purple cauliflower
2 lbs. cucumber and zucchini
2 large or 5 baby eggplant
1 bunch mint
4 small heirloom tomatoes
1 bunch collards
22 oz. string beans
SMALL VEGGIE SHARE
Choice of 1 head boston lettuce or 1 head red leaf lettuce
½ bunch red beets
½ bunch carrots
2 ears corn
1 purple cauliflower
1 lb cucumber and zucchini
1 large or 3 baby eggplant
1 bunch mint
2 small heirloom tomatoes
Choice of 1 bunch of collards or 1 head of escarole
10 oz. string beans
FRUIT SHARE
1 pint blueberries
3-4 apples
Large Vegetable Share
Small Vegetable Share
Fruit Share
Weekly Shares
July 12, 2016
LARGE VEGGIE SHARE
1 bunch carrots
1 lb. kirby cucumbers
3 lb squash yellow/green
4 lb. zucchini
1 bunch basil
1 bunch dill
1 head red leaf lettuce
1 head romaine lettuce
1 bunch scallions
1 head red cabbage
1 bunch bok choy
1 bunch lacinato kale
1 bunch curly kale
1 bunch rainbow chard
1 bunch spinach
1 pint cherry tomatoes
SMALL VEGGIE SHARE
½ bunch carrots
½ lb. kirby cucumbers
1.5 lb squash yellow/green
2 lb. zucchini
½ bunch basil
½ bunch dill
Choice of 1 head red leaf lettuce or 1 head romaine lettuce
½ bunch scallions
Choice of 1 head red cabbage or 1 bunch bok choy
Choice of 1 bunch lacinato kale or 1 bunch curly kale
Choice of 1 bunch rainbow chard or 1 bunch spinach
½ pint cherry tomatoes
FRUIT SHARE
1 pint cherries
2 lb. cripps pink apples
Large Vegetable Share
Small Vegetable Share
Fruit Share
Weekly Shares
July 5, 2016
LARGE VEGGIE SHARE
30 oz Romanesco cauliflower
2 lb zucchini
24 oz cucumbers
1 bunch collards
Choice of two of:
1 bunch red beets, 1 bunch spring onions, or 1 bunch kale
1 bunch arugula
1 bunch spinach
1 bunch mint
1 bunch parsley
1 bunch basil
1 head Boston lettuce
1 head romaine
SMALL VEGGIE SHARE
15 oz Romanesco cauliflower
1 lb zucchini
12 oz cucumbers
½ bunch collards
Choice of one of:
1 bunch red beets, 1 bunch spring onions, or 1 bunch kale
Choice of 1 bunch arugula or 1 bunch spinach
Choice of 1 bunch mint or 1 bunch parsley
Choice of 1 head Boston lettuce or 1 head romaine
FRUIT SHARE
1 quart cherries
2 lb Golden Delicious apples
Weekly Shares
June 28, 2016
LARGE VEGGIE SHARE
1 bunch radishes
2 lbs zucchini
2 bunches bok choy
2 red onions
14 oz Romanesco cauliflower
Choice of 1 bunch red beets or 1 bunch red chard
1 head red leaf lettuce
1 head romaine
Choice of mint, sage or oregano
½ bunch carrots
½ bunch scallions
SMALL VEGGIE SHARE
½ bunch radishes
1 lb zucchini
1 bunch bok choy
1 red onion
7 oz Romanesco cauliflower
Choice of 1 head red leaf lettuce or 1 head romaine
Choice of1 of mint, sage or oregano
Choice of ½ bunch carrots or ½ bunch scallions
FRUIT SHARE
1 qt strawberries
2 lb apples
Large Vegetable Share
Small Vegetable Share
Fruit Share
Weekly Shares
June 21, 2016
LARGE VEGGIE SHARE
2 lbs carrots
2 lbs red potatoes
1 bunch Italian parsley
1 bunch curly parsley
1 bunch flowering broccoli rabe
1 mini cabbage
2 bunches spinach
1 bunch Russian red kale
1 head escarole
1 head Boston lettuce
SMALL VEGGIE SHARE
1 lb carrots
1 lb red potatoes
1 bunch Italian parsley
½ bunch flowering broccoli rabe
½ mini cabbage
1 bunch spinach
½ bunch Russian red kale
1 bunch head escarole or 1 head Boston lettuce
FRUIT SHARE
2 qt strawberries
Large Vegetable Share
Small Vegetable Share
Fruit Share
Weekly Shares
June 14, 2016
Large Vegetable Share
Small Vegetable Share
Fruit Share